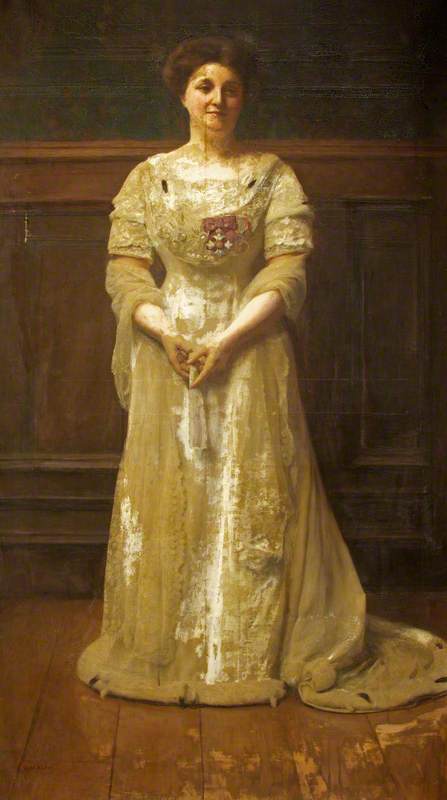 Topic: Artist
L. M. Fisher I believe to be Laura Margaret Fisher, who, in 1892 as a student at the Clapham School of Art was awarded the Mulready Prize by the Society of Arts as well as a Gold Medal.

During the 1920s she occupied 9, Trafalgar Studios on Manresa Road, Chelsea (source: Electoral Registers).

I have learned this whilst researching a portrait of an unknown sitter appearing in an auction catalogue as 'A Lady at her Writing Desk' (see attached). Signed 'L. M. Fisher.' there is a partial label verso, in handwriting, reading Laura Margaret Fisher'.

There is one reference to a work on ArtNet listed as
Laura Margaret Fisher
A Pretty Young Girl Fishing
25.4 x 20.3 cm (10 x 8 in)

The Bibliothèque nationale de France has the following microfilm:
69
Fisher, Laura Margaret (18..-19..)
Portraits de Laura Margaret Fisher, peintre anglaise,
(XIXe-XXe s.)
NE-63 (68)-FOL (p. 122)
Collection Laruelle
Microfilmé

I am not an ArtNet subscriber and I cannot access the microfilm. So far all attempts to obtain biographical details other than those cited above have failed and consequently I am hopeful that this posting may prompt a discussion that might lead to further information becoming available.
Completed, Outcome

This discussion is now closed. The artist 'L. M. Fisher' has been identified as Laura Margaret Fisher (1872–1960) and a biography has been produced for Art UK. The sitter, previously known as 'C. H. Bailey' (taking the initials of her husband, Charles H.), is now recorded by her own name, Gertrude Mary Bailey, née Buchanan (1870–1941). This is the only work by Laura Margaret Fisher in a UK public collection.

Thank you to everyone who contributed to the discussion. To anyone viewing this discussion for the first time, please see below for all the comments that led to this conclusion.