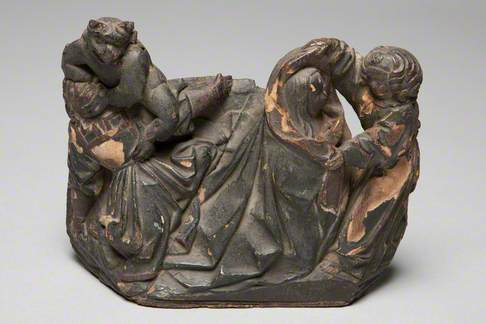 Topic: Subject or sitter
This appears to show a woman seized by a devil at left and another woman with hands clasped in prayer protected by an angel (?) at right. Presumably this came from some depiction of (or reference to) the Last Judgment. A better title might be 'Two Women: The Wages of Sin and Virtue'.
Completed, Outcome

This discussion is now closed. The improvised title 'Gesso Carving' has been replaced by 'The Wages of Sin and Virtue' and the sculpture's likely origin listed as Flemish or North German. A description has been added to the artwork page and the medium has been updated to include the fact that it is not just gesso, but wood with gesso and polychromy.

Thank you to everyone who contributed to the discussion. To anyone viewing this discussion for the first time, please see below for all the comments that led to this conclusion.