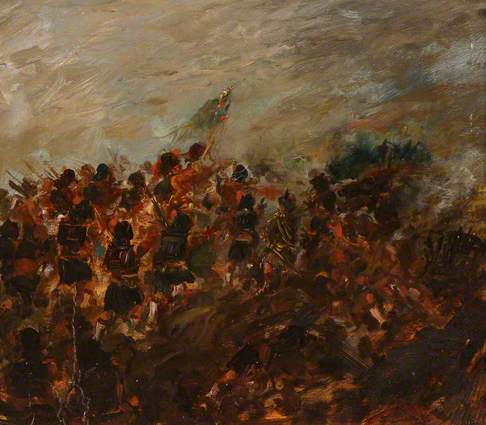 Topic: Artist
This powerful image suggests to me that it is possibly an oil sketch by the Scottish artist Vereker Monteith Hamilton (1856–1931). Sadly, I am unaware of the finished work (if indeed it was ever completed), however both the period, subject matter, energy, composition and brushwork encourage me to raise this for discussion. I am aware of both large scale, highly finished commissioned works by this artist, but also apparently smaller finished works which rely more on atmospherics (colour and drama).

Works executed by this artist in a similar impressionistic style are 'Les Sylphides', 'Kensington Gardens in June' and 'Scene from Le Sacre du Printemps'. These seemingly finished paintings are connected by the monogram VMH. The works appear, both in subject matter and execution, very different to the highly finished exhibition pieces which are usually signed. Three other artists of this period with similar initials are clearly not contenders in my opinion.

From the examples I have examined, almost every one of his works shows stylistic differences, which is certainly possible given the fast moving fashions of the period. In summary, what we are left with is an artist from a Scottish military family who painted high quality works featuring, in the main, Scottish regiments. In addition two of his better known works depict troops attacking uphill from left to right, as in 'Alma Heights'.

There are very few British artists of the period who produced quality atmospheric military paintings of such energy. What I can say is that certainly 'The Forlorn Hope at Badajoz' (1906) and 'Battle of Quatre Bras, 1815' (1906) are well respected images and frequently reproduced in books of the period, but often without acknowledgement to the artist. His large painting 'The Attack on the Peiwar Kotal, Afghanistan, by 5th Gurkha Rifles, December 1878' (c.1890) is hung in a prestige position in The National Army Museum. If this work is by VMH then I feel it is a preliminary sketch, but one which is unlikely to have been painted by an artist not associated with military subject matter.
2 comments

Oil studies are notoriously difficult to identify the artist. Certainly VMH produced some highly-evocative battle scenes and could well have chosen Alma. I have been through my file on him but could not locate any reference to a painting of this battle. One should not discount his contemporary, Allan Stewart, who, being a Scotsman, often chose military subjects relating to his countrymen in war, although I could not find any reference to a painting of the Alma in his file.
Peter Harrington

While the suggestion that this work may be by Vereker Hamilton is an interesting one, I don't think we know enough about the work of this interesting artist to be able to make a judgement on this little oil sketch. He trained at the Slade under Legros in the mid-1880s and his superb profile of the Bengal cavalry officer in the National Army Museum, worthy of comparison with the Swobodas in the Royal Collection, indicates a skilled draughtsman. Linear elements are also visible in his little ballet studies on the web, while the extant larger battle-pieces invariably single out individual foreground heroic figures. None of this excludes Hamilton from the present work – but for me it just makes it seem less likely that he is the author.
I wish we knew more about his work.
There is no doubt about what is represented – an engagement in which the Cameron Highlanders charged up from the Alma river to take the Great Russian Redoubt on top of Kourgane Hill in the Crimea. If there is an upscaled and documented version of this oil sketch somewhere, it would no doubt solve everything. While we wait for this to appear, perhaps the present discussion should close, with thanks to Clive Hamilton and Peter Harrington.