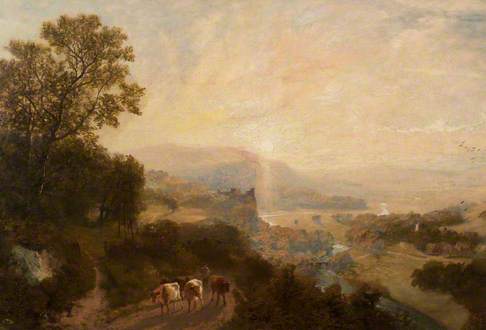 Topic: Subject or sitter
This painting is incorrectly titled. Beeston Castle sits on an isolated hill in a broad, flat plain, with no meandering river nearby.

Does anybody recognise the location of the castle depicted in this scene?

The collection note: 'Interestingly when the painting originally entered the collection in 1950 was entitled 'Halton Castle'. At some point between then and 2004 the painting was renamed/reidentified as Beeston Castle and the identification has stuck.

Compare with a view of Halton Castle from Fiddler's Ferry:

http://www.bbc.co.uk/arts/yourpaintings/paintings/halton-castle-cheshire-from-fiddlers-ferry-104158'
Completed, Outcome

This painting is now titled 'Hornby Castle, Lancashire'. The painting description has also been updated. These amends will appear on Art UK in due course.

If anyone has any new information about the artist, please propose a new discussion by following the Art Detective link on the artwork page on Art UK.

Thank you to all for participating in this discussion. To those viewing this discussion for the first time, please see below for all comments that led to this conclusion.