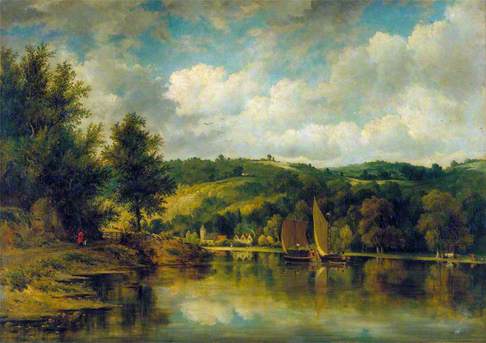 Topic: Subject or sitter
Could this be 'A view on the Wye, Welch Bickner (sic) church in the distance' related to a study exhibited at the British Institution in 1824 as no.4 (1ft 10in x 2ft 3in)?

Welsh Bicknor is south of Ross on Wye and north of Symond's Yat – and the view would be looking north. The village is north of Lydbrook. A relatively recent photograph taken by Stuart Wilding shows a similar view http://www.geograph.org.uk/photo/1018103, where you can also find a map. Confusingly, the Wye at this point is running north before it turns south again towards its mouth.

A photograph of the church is also to be found on the Wikipedia entry for the village.

The church would be St Margaret's. The village was then in Monmouthshire, but since 1844 it has been in Herefordshire.
Completed, Outcome

This discussion is now closed. The subject has been more closely identified as a view on the Wye with St Margaret's, Welsh Bicknor in the distance. It is probably one of the views of this location that Watts exhibited between 1828 and 1848, possibly RA 1829 (433).

Thank you to everyone who contributed to the discussion. To anyone viewing this discussion for the first time, please see below for all the comments that led to this conclusion.