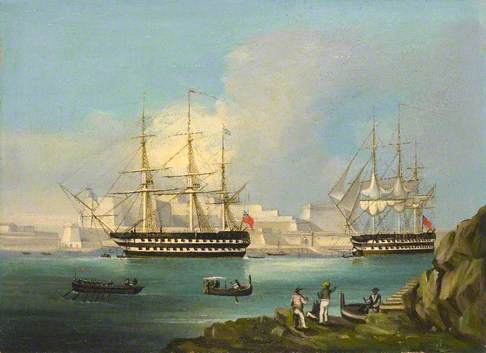 Topic: Subject or sitter
I do not think this shows Plymouth. It is almost certainly Grand Harbour, Valletta, Malta, though which part of the fortification is not immediately clear to me. The small boat with the canopy at centre is a Maltese dghaisa, and that at right partly hidden probably one. Probably 1840s/ early 50s since there do not appear to be auxiliary funnels on the Navy vessels. The moored ships appear to be probably 80-gun two-deckers (certainly 74-plus) of the British Mediterranean fleet, one drying sails, under one of the promontory forts of Grand Harbour: the specific location question is 'which fort?' and the orientation in relation to the harbour entrance. Thoughts on artist would also help, who may be Maltese rather than British, since there was a local marine school 'making hay' from the long British naval presence on Malta from 1804 to its 1960s independence.
Completed, Outcome

This discussion is now closed. The title has been changed, since this is not Plymouth Harbour, Devon, but a view of British two-deckers moored under Fort Saint Angelo in Dockyard Creek, Grand Harbour, Malta, as seen from Senglea Point. The date has been narrowed down from 19th C to c.1850 and a note added to Art UK that the artist may have been Maltese.

Thank you to everyone who contributed to the discussion. To anyone viewing this discussion for the first time, please see below for all the comments that led to this conclusion.