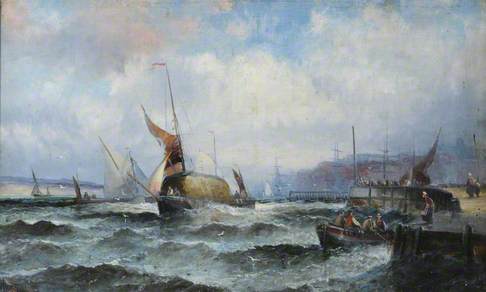 Topic: Subject or sitter
Following a long 'backstage' discussion the previous description/ title of this painting as showing the harbour at St Helier, Jersey, has been changed to something more neutral, as well as the attribution being sharpened to W.A. Thornbery (alias 'Thornley' as he often signs himself) of Gravesend.

The remaining problem is therefore 'where is it' if not St Helier? The Thames barges - the main one loaded with hay - suggest Thames area and the composition is very similar to another currently still misattributed and mistitled Thornbery which may more evidently be a view looking west off Leigh-on-Sea, Essex. https://bit.ly/3qVrCsa. In that case the church high on the right would be St Clement's. If the 'Jersey' one is also Leigh rather more liberties seem to have been taken but it would be useful to have views on either or both.
Completed, Outcome

This discussion is now closed. The title has been adjusted from 'St Helier Harbour with Boats and People' to 'Estuary Scene with Thames Barges and People in Rough Weather'. The harbour is not St Helier and it is not certain that it shows Leigh-on-Sea, Essex either.

Thank you to everyone who contributed to the discussion. To anyone viewing this discussion for the first time, please see below for all the comments that led to this conclusion.