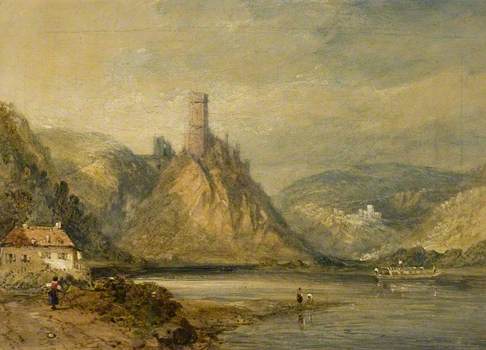 Topic: Subject or sitter
This appears to depict the Rhine, somewhere between Koblenz and Rüdesheim am Rhein. The castle could be Marksburg Castle, Braubach.

The collection comment: 'It certainly looks feasible that it could be Marksburg Castle, having looked at other images of this location. We have no further information on record.'

The painting came to the gallery as part of the original request. The title may have been invented for it at that stage, or when it was purchased by Joseph Shipley.'
Completed, Outcome

This discussion is now closed. A painting description has been added to this work.

This amend will appear on the Art UK website in due course. Thank you to all for participating in this discussion. To those viewing this discussion for the first time, please see below for all comments that led to this conclusion.

If you have any new information, please propose a new discussion by following the Art Detective link on the artwork's Art UK page.