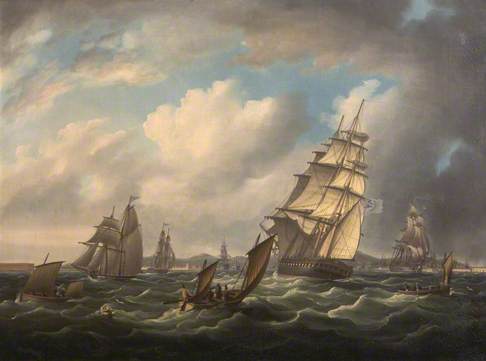 Topic: Subject or sitter
Are there any suggestions for the location of this scene, with evidence? It is not easily identified even when apparently the same and seen more clearly (but a bit closer in) in a painting at the Britannia Royal Naval College, so far just described as 'Seascape' by 'unknown artist' but also fairly clearly by Thomas Buttersworth from its style:

http://bit.ly/2iHJ29k

Is it Plymouth in both? There's either a breakwater or something similar to the left (that at Plymouth was built in the 1820s) and apparently masts rising above low-lying white buildings at far right. The three luggers in the foreground all look fine for British south-coast craft and it's clearly a naval port from the other shipping: I just can't square the location with my admittedly hazy recollections of Plymouth and views of it.

The Plymouth canvas is illustrated as one of the Buttersworth examples in E. H. H. Archibald's 'Dictionary of Sea Painters' as 'Shipping off Plymouth', so presumably that has some basis – but more detail would be useful.
Completed, Outcome

This discussion is now closed. The title has been amended from 'English Men o' War' to 'A British Frigate Running into a Fortified Naval Port, amid Other Shipping'. The location could not be identified.

Thank you to everyone who contributed to the discussion. To anyone viewing this discussion for the first time, please see below for all the comments that led to this conclusion.