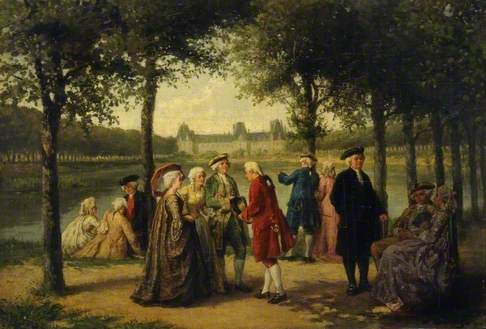 Topic: Subject or sitter
The roof line of the building in the background does not suggest Versailles. It looks more like Fontainebleau.

There are a number of photos on the web showing the chateau with its various pools in the foreground though I have not been able to discover one with a corresponding aspect. It struck me that the high roofs of the pavilions shown here were more typical of Fontainebleau than Versailles.
Completed, Outcome

This discussion is now closed. This painting has been renamed 'A Promenade at a Chateau in the Time of Louis XV', since it is likely to be an imagined location whose architecture and landscaping are loosely based on Fontainebleau and Versailles, and possibly other chateaux in the Île de France.

Thank you to everyone who participated in this discussion. To those viewing it for the first time, please see below for all the comments that led to this conclusion.