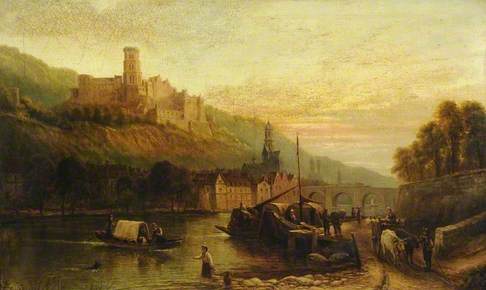 Topic: Artist
Could anyone provide further details of the life and work of this nineteenth-century artist?

The collection comments: 'The Ferens Art Gallery holds one work by J. L. Vychan, an undated oil painting 'Drachenfels on the Rhine'. However, like Art UK, we have very little information about the artist. From our permanent collection catalogue 'From Victorian to Edwardian: The Ferens Art Gallery Collection of Victorian and Edwardian Art' (published 2009), we know that Vychan was recorded at 29 Bolsover Street, Portland Place, London between 1873 and 1877, and exhibited at the Royal Society of British Artists. His subjects included landscapes from Ireland to Derbyshire, and this one Rhine subject. Christopher Wright, the catalogue author, suggests that "given the general style of the Ferens' painting it is possible that the artist was of continental origin".'

There is another example of Vychan's work attached: 'Venice' (private collection).
Completed, Outcome

This discussion is now closed. The artist has been amended to John Lloyd-Elsegood (c.1830–1912), with an explanation on the artwork page that he used the pseudonym J. L. Vychan for his exhibited paintings from 1873 into the 1890s. The title has been amended to 'Heidelberg from the River Neckar'.

Thank you to everyone who contributed to the discussion. To anyone viewing this discussion for the first time, please see below for all the comments that led to this conclusion.