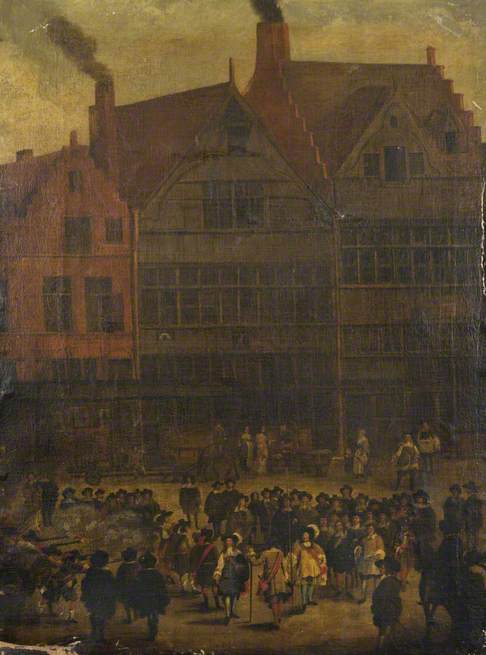 Topic: Subject or sitter
This work is entitled 'A Scene of Rebellion'. It appears to show people being executed in the middle of a busy street in a Flemish town. However, if you look at the general calmness of the scene, with housewives coming out of their homes to watch and a crowd of people standing behind the people being shot at, it is clear that this is not a violent scene. Rather, it depicts one of the parades of the local militia which included demonstrations of firearms using only powder. A similar scene can be found in Denys van Alsloot, 'The Ommeganck Procession in Brussels on 31 May 1615: The Senior Guilds' in the collection of the Victoria and Albert Museum. In the centre of that painting we also see demonstrations of firearms. https://bit.ly/2x7N4zl

Nicolaas van Eyck was himself a member of a local 'schutterij' (civil militia) and is known to have painted parades of local militia in his home town Antwerp. An example is in the Museum Vleeshuis, Antwerp. https://bit.ly/2xcAePE

Further evidence for this being a representation of a parade of a civil militia can be found in the (unfortunately poor quality b/w) reproduction of van Eyck's 'Grote Parade van de Antwerpse Burgerwacht op de Meir, 1673' (Grand Parade of the Antwerp Civil Guard on the Meir, 1673). https://bit.ly/2p4Oq9X On the far right of this canvas is depicted a row of militiamen shooting at a few men with their backs turned towards the shooters. The three houses depicted on the right-hand side are almost identical to the three houses depicted in the Hospitalfield painting. It is therefore likely that the Hospitalfield painting was originally part of a larger depiction of a parade of the Civil Guard on the Meir - the principal thoroughfare in Antwerp. This larger canvas appears to have been cut up and the Hospitalfield painting may be the sole extant portion of the original work (unless an art detective can locate other pieces of it ...).