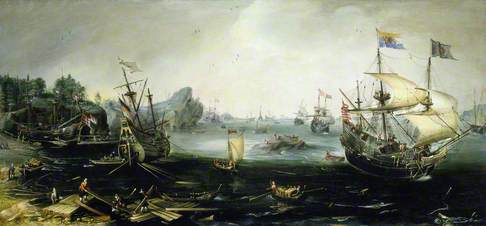 Topic: Subject or sitter
Can anyone suggest the origin of the ship shown here in stern view, centre left?

The current description at the National Maritime Museum suggests it is from the Catholic Southern Netherlands, since there is an image of the Virgin Mary on the stern with groups of worshipers standing on either side. However, I have not yet found to whom the flag flown at the stern as an ensign belongs. It shows three horizontal bands of black, orange or gold and white. In the later nineteenth century this would be Imperial Russia but not, I think, at this date.

Above the Virgin Mary on the tafferel there is also what would normally be a name (or often a town) shield. It shows a black bull 'statant' and facing left with its tail raised over its back, on a blue ground. A bull on a blue ground, with lowered tail and a sunburst in the top left corner of the shield is the arms of the Dutch inland town of Beemster. A similar one on a brown/red ground is that of Edam, but I doubt either are the case here.

The bull motif in simpler form is also on the white flag flying at the main, so 'The Black Bull' or similar may just be the name of the ship. This would not be unusual if painted for a master or owner, though the main vessel on the right, flying the arms of Amsterdam, takes rather more prominence.

Any other thoughts would be welcome and help a current enquiry about the picture.
Completed, Outcome

This discussion is now closed. It has not been possible to find any firmer information about the flags and other emblems, but the description on Art UK has been updated as a result of this discussion.

Thank you to everyone who contributed to the discussion. To anyone viewing this discussion for the first time, please see below for all the comments that led to this conclusion.