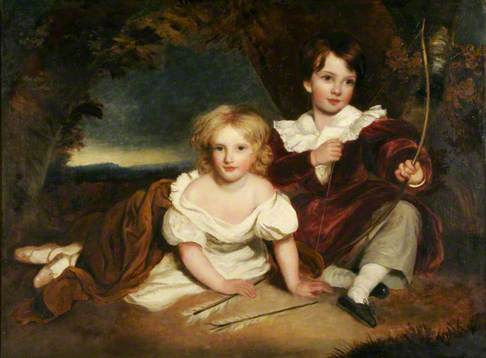 Topic: Other
We have discovered that Evelyn De Morgan (who was related to Elizabeth Buxton) made a copy of this painting. It was sold at auction after the death of Margaret Fraser Spencer Stanhope (Evelyn's mother was a Spencer Stanhope) in 1965. The information was found in the sales catalogue for Banks Hall, Cawthorne, Barnsley: 'E. de Morgan, after Hurlstone. Charming conversation piece. Elizabeth Julia Spencer Stanhope and Sir Robert Buxton 1834, as children, 34 x 43 in.'.

https://d3d00swyhr67nd.cloudfront.net/_file/art_detective/00206b8d18f0190418161522.pdf
https://d3d00swyhr67nd.cloudfront.net/_file/art_detective/00206b8d18f0190418161548.pdf

Barnsley Museums and Archives and The De Morgan Foundation were excited to learn about this new and (to us) previously unknown painting by Evelyn and we would like to know its current whereabouts and its journey after the sale. I have had no success tracking down the auctioneer's records and hope that Art Detective could help.
Completed, Outcome

This discussion is now closed. Unfortunately, we have not been able to determine the present whereabouts of Evelyn De Morgan's copy of this portrait of Robert and Elizabeth Buxton in the collection of Norfolk Museums Service, although the discussion has provided useful background material for the collection and Barnsley Archives.

Thank you to everyone who contributed to the discussion. To anyone viewing this discussion for the first time, please see below for all the comments that led to this conclusion.