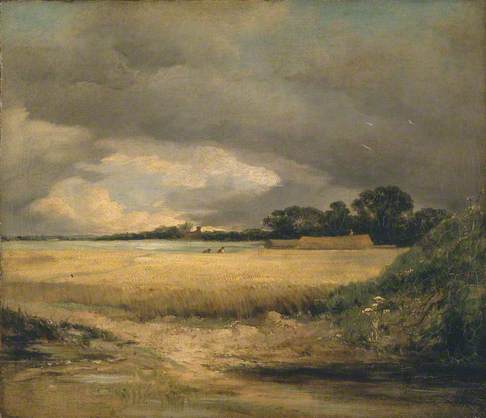 Topic: Subject or sitter
Manchester Art Gallery would like to call upon the collective expertise of the Art Detectives.

An interested member of the public has written a detailed account concerning the location of 'Cottage in a Cornfield', formerly attributed to John Constable. The author believes she has pinpointed the viewpoint in Lavenham, Suffolk, from which the painting was composed and has even gone as far as to suggest the painting could still be by John Constable due to the connections involved.

Please see the attached document and let us know if you agree with her conclusion.

A Constable specialist at Tate deemed the work as not by the artist in 2006.
Completed, Outcome

The painting will now be listed as by Thomas Francis Wainewright (c.1815–1853). The execution date will change to 1853. The title will change to 'Landscape with Cornfield'.

Please also note more accurate birth and death dates were generated as part of the discussion for the artist Thomas Francis Wainewright.

These amends will appear on the new version of the Your Paintings website in January 2016. Thank you to all for participating in this discussion. To those viewing this discussion for the first time, please see below for all comments that led to this conclusion.