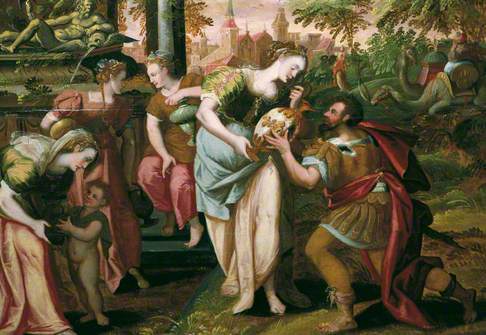 Topic: Artist
The only information we have about this painting is that it was purchased from Viscount Astor in 1948 (and part of an overmantle within 4 St James's Square, London).

We do have an attribution note from 1968 (nothing confirmed in writing, just a note on our computer database) which says that this painting is possibly from the circle of Maerten de Vos (1542–1603).

Any further information would be welcome.

PCF note: The acquisition method recorded for this painting has been updated to 'purchased from Viscount Astor, 1948'. This amend will appear on the new version of Your Paintings in January 2016.
Completed, Outcome

The additional information 'based on a prototype by Maarten de Vos' has been added to the painting record.

These amends will appear on the new version of the Your Paintings website in January 2016. Thank you to all for participating in this discussion. To those viewing this discussion for the first time, please see below for all comments that led to this conclusion.