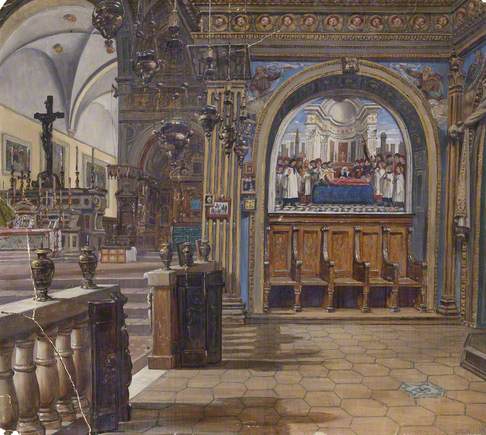 Topic: Execution date
This is not Florence, but the interior of the Collegiata, San Gimignano. The altarpiece is a major painting by Domenico Ghirlandaio 'The Funeral of Santa Fina' of 1475–1478. This was that artist's first major commission.

However, is the dating of McInnes' painting of this interior really of 1860, or is it earlier? Royal Academy 1858, no. 527, was McInnes' 'The Shrine of Santa Fina in the Duomo of San Geminiano, Tuscany'. The Collegiata is also the Duomo. The shrine is the saint's tomb designed by the sculptor Benedetto da Maiano. So the painting exhibited would have been of a different part of the chapel.
Completed, Outcome

This discussion is now closed. This interior has been identified as The Chapel of Santa Fina in the Church of Santa Maria Assunta, San Gimignano, although the date of execution could not be confirmed. Art UK's record has been updated and the new information will be visible on the website in due course.

Thank you to everyone who participated in this discussion. To those viewing it for the first time, please see below for all the comments that led to this conclusion.