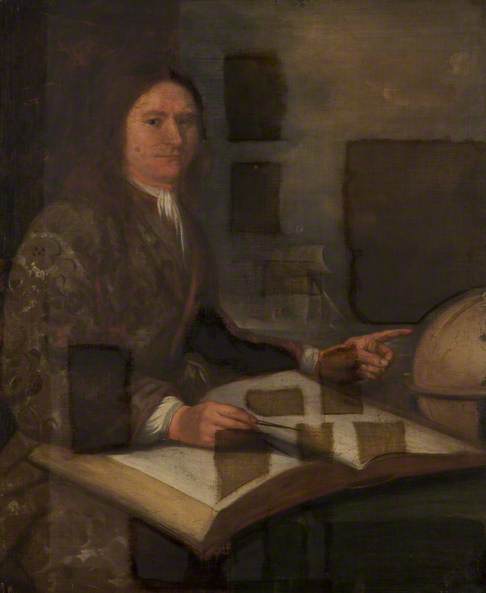 Topic: Subject or sitter
Views on the sitter and artist of this portrait would be welcome. It appears not to be Columbus or painted by Cornelis Ketel, who died in 1616.

The navigator, geographer or cartographer shown is apparently of the later 17th or early 18th C, with a large atlas of line-engraved printed charts in front of him. The globe to which he points also appears to be of printed gores, of similar date and sophistication. Whether these are Dutch or English is hard to say.

My instinct is that the dress and general appearance suggests an English sitter. He is more round-faced and cheerful looking than the portrait of William Dampier by Thomas Murray (c.1697–1698) in the National Portrait Gallery, although he wears his hair long and is probably not too far away in terms of date.

http://www.bbc.co.uk/arts/yourpaintings/paintings/william-dampier

The coat, perhaps silk brocade, suggests relatively wealthy indoor attire, though the poor condition of the canvas makes the whole thing hard to assess.

Warrington Museum & Art Gallery comments:

The painting was donated to the gallery in December 1872 by 'Mr Bankes Mercer' (or possibly 'Mr Bankes, a Mercer' - the entry is unclear). The register entry reads as follows:

'Portrait said to be of Christopher Columbus which was formerly in the possession of G. White the engraver.' The entry originally said it was 'engraved by' G. White. This has been crossed out.

According to a note in our catalogue there was previously a note on the reverse reading 'Christopher Columbus formerly in the Collection of George Whileb (White?) Engraver [...]' and it was 'signed on the back'. We don't know whether the signature was of the artist or the former owner. The message is now lost following the relining of the canvas and no record appears to have been made.

We have been unable to ascertain when the painting was attributed to Ketel, other than it appears to have been made prior to 2006.
Completed, Outcome

The artist of this painting has been changed to 'British School' and the painting title changed to 'Portrait of a Late Seventeenth-Century Navigator (formerly said to be Christopher Columbus, 1451–1506)'.

These amends will appear on the Your Paintings website by the end of July 2015. Thank you to all for participating in this discussion. To those viewing this discussion for the first time, please see below for all comments that led to this conclusion.

If any contributors have new information about this painting, we encourage them to propose a new discussion by following the Art Detective link on the Your Paintings page: http://www.bbc.co.uk/arts/yourpaintings/paintings/christopher-columbus-14511506-104062