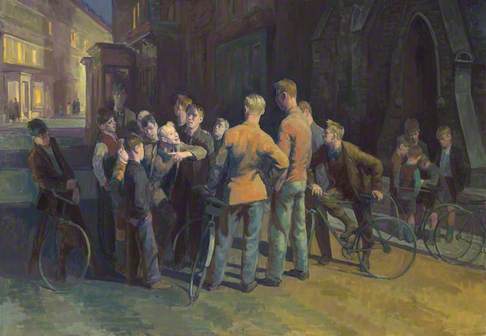 Topic: Execution date
Earlier this year a member of the public wrote to us with regard to the questionable provenance of the following piece.

Enquiry:
"I believe this may be the picture exhibited by Lamb as part of the Arts Council's Festival of Britain 'pictures for '51' exhibition – the composition matches the (black and white) reproduction in the catalogue, and the dimensions are correct, although the date in that case would be 1951 rather than 1953. The title given there is 'Night Life'. Five pictures (not this one) were bought by the Arts Council, and the remainder were sent on a selling tour of the country after the Festival closed."

Perhaps the piece has a dual title or belongs to a similar group of paintings? Are you able to reference this catalogue or do you know anything about this painting's provenance?

With any change we would need to see some firm evidence for us to change our records.