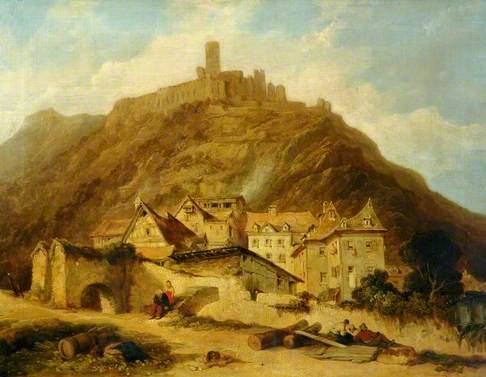 Topic: Artist
Charles F. Tomkins (1798-1844) exhibited at the British Institution (1829-44) and the SBA, but not the RA.

He seems to have been scrupulous in at least signing his letters 'Charles F. Tomkins' as in letter by him (1840) currently for sale online addressed to Dominic Colnaghi, sending him 'a series of Sketches in Belgium, France and Germany; if you think they would answer your purpose as a work [i.e. for publication], I should be happy to meet you and make the necessary arrangements for its furtherance....P.S. They have not been seen by any one' – see https://bit.ly/3elxOog

That suggests a recent tour though a 'Fountain at Nuremberg' was one of his BI exhibits in 1838: French and Rhine views were then what he showed there on his next and last appearances in 1843 and 1844.

The BM also has a couple of drawings by Charles F. Tomkins done for Colnaghi in 1832, but both annotated by another hand ('Fred Rose', who next had them) that he was born in 1807 and died in 1838, so someone is either wrong or has a crossed wire: https://bit.ly/2VFPTXA and https://bit.ly/2UeRuDm

The potential for such a confusion is the Charles Tomkins who was certainly an early 19th-century theatrical scene-painter also reported as having died in 1844 (reputedly of sunstroke) and latterly known as a principal scene-painter at the Adelphi Theatre in the Strand. More recent research suggests he wasn't there that late but at various points between 1824 and 1835 https://bit.ly/36D5bi6

What still seems lacking, however, is clear proof that 'Charles F.' and the scene-painter are the same or different men.

In a 'Directory of Victorian Scene Painters' in 'Theatrephile' [magazine] vol 1, no 2, 1984, Hilary Norris treated them as one under 'Charles F. Tomkins (1798-1844)' but as far as I know the theatre man never features with an 'F.' initial in playbills etc and 'Charles F.' may have deliberately used it to 'disambuguate' himself from the stage man or possibly also from his overlapping contemporary, the watercolour draughtsman Charles Tomkins (1757-1823). If the last was his father, I have never seen that claimed.

Norris calls him a 'Scene painter, draughtsman, caricaturist and landscape painter in watercolour'; notes that he worked with Stanfield at the Coburg (Old Vic) in the 1820s, at the Olympic for Madame Vestris and for Macready at Covent Garden in 1837; (and to that one can certainly add early work Astley's Amphitheatre, Sadlers Wells and the Surrey Theatre from other sources). She also states -possibly based on Christopher Wood's 'Dict. of Victorian Painters' (a source cited) that he painted 'the temporary buildings erected for the coronation of Queen Victoria in 1837 and drew for early numbers of "Punch"' - plus the BI and SBA oils track record already mentioned.

It is certainly possible that 'Charles F.' and 'Charles the scenepainter' are the same but if so he seems to have been 'thinly spread' for all the activities listed, so is there more positive proof of it?

Until recently this 'St Goar' was wrongly attributed to the man who died in 1823: it's the only one on Art UK by Charles F. and, presumably more properly St Goarhausen with Katz Castle (as also so painted by Turner from a different angle).
Completed, Outcome

This discussion is now closed. Charles F. Tomkins has been identified as the theatrical scene-painter of the same name. A draft biography of the artist has been produced for Art UK. The painting has been identified as 'Part of St Goarhausen, on the Rhine, with the Castle of the Katz', exhibited at the Society of British Artists, 1841, no. 346.

Thank you to everyone who contributed to the discussion. To anyone viewing this discussion for the first time, please see below for all the comments that led to this conclusion.