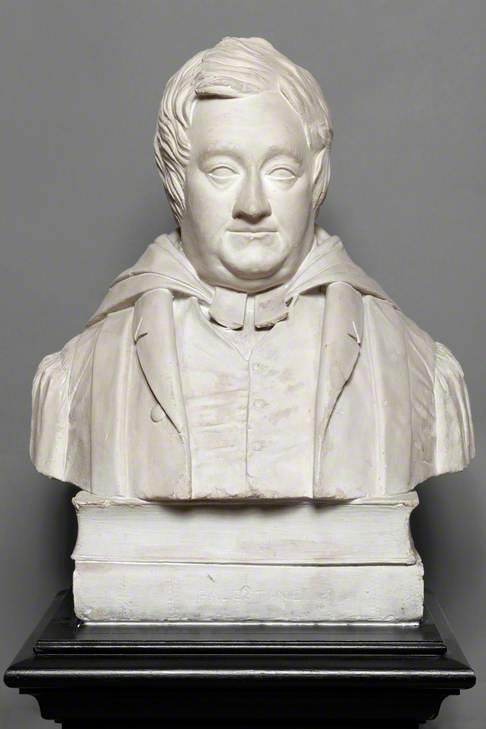 Topic: Artist
It has been suggested that 'J. Fazi' stands for the Italian sculptor Giovacchino Fazi who was living in Plymouth between the 1860s and the 1880s.

Giovacchino Fazi was born in Italy c.1833. He married Rosina Clouter (b. 1841) in Plymouth Roman Catholic Cathedral, on the 23rd November 1865.

According to his death registration, Fazi died in Plymouth aged 49 on 3rd June 1882. Rosina died on the 16th April 1884, aged 42.

According to the 1871 UK Census, Giovacchino Fazi, a "Sculptor", aged 45, was living at 11, Sloke Hill, Plymouth, with his wife Rossini (sic), aged 29, and their two children, Venezia R., aged 4, and Rosina L., aged 2.

In the 1881 census, the family, living at 23, Wyndham Street, Plymouth, consisted of 'Jivohino (sic) Fazi', aged 50, a "Sculptor", born in Italy; his wife Rosina, aged 39, born in Plymouth; their daughter, Rosina, aged 12, born in Plymouth; and their son, Edwin, aged 9, born in Plymouth.

Can anyone find further information about the correct birth date of Giovacchino Fazi or provide evidence to suggest he is the artist?
Completed, Outcome

This discussion is now closed. The sculptor has been identified as Giovacchino Fazi (c.1833–1882). The new entry (March 2020) in Jacob Simon's National Portrait Gallery research project, 'British bronze sculpture founders and plaster figure makers, 1800–1980', is based entirely on the research carried out here. See: https://bit.ly/2xOC7Gx

Thank you to everyone who contributed to the discussion. To anyone viewing it for the first time, please see below for all the comments that led to this conclusion.