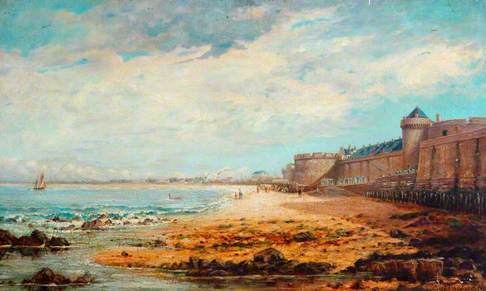 Topic: Subject or sitter
This appears to be by Armand Félicien Pinel, a painter of landscape and harbour scenes, who first exhibited at the Salon in 1880 and died in 1892. There is an entry in Benezit. Could we find out more about him?

The attached closeup image of the signature and date [18]85, courtesy of the collection, shows the picture's colours more faithfully. The curator has confirmed that Art UK's image is too warm, resulting in a vividness that is not in the original.

The 1878 signature on the link below is in capitals, but the 'A' and general style are very similar. It's a detail from the A. F. Pinel 'Pont des Arts' painting sold here in 2016: https://www.dorotheum.com/de/l/1574746/
https://d3d00swyhr67nd.cloudfront.net/_source/armand-felicien-pinel-b-1574746.jpg

The possible artist and general appearance suggest it is, perhaps, France. Could it be St Malo?
Completed, Outcome

This discussion is now closed. 'Seascape' has been attributed to Armand Félicien Pinel (1820–1892/94) and a biography of the artist has been provided. This is the only known example of Pinel's work in a UK public collection. The location has been identified as the Bastion Fort La Reine and beach at Saint-Malo, looking east, but in the absence of bibliographical evidence the title will remain as it is.

Thank you to everyone who contributed to the discussion. To anyone viewing it for the first time, please see below for all the comments that led to this conclusion.