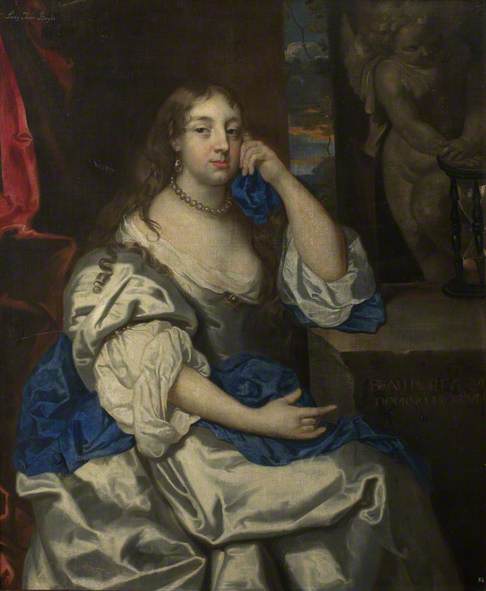 Topic: Subject or sitter
I recently purchased an oil painting of Lady Jane Boyle at auction, which had belonged to The Society of Cincinnati museum in Washington, DC, and while doing some checking online I noticed that the artist dates for Jacob Huysmans (c.1633–1696) don't work for this portrait of Lady Jane Boyle.

According to her bio she died in 1780 and was born in 1699, three years after Huysmans died. However Huysmans dates work perfectly for her grandmother, Lady Jane (Seymour) Boyle (1637–1679), and I think that is who sat for this portrait with Huysmans.

Lady Jane Seymour (1637–1679) was the fourth daughter of William Seymour, 2nd Duke of Somerset and his wife, Lady Frances Devereux.

On 7 May 1661, Lady Jane Seymour (1637–1679) married Charles Boyle, 3rd Viscount Dungarvan. Her modern descendants included Elizabeth Bowes-Lyon, Queen Elizabeth The Queen Mother.

Her husband Charles Boyle: https://bit.ly/2xEs3A1

They had five children:

Hon. Elizabeth Boyle (1662–1703), married her second cousin James Barry, 4th Earl of Barrymore.
Hon. Mary Boyle (c. 1664–1709), married James Douglas, 2nd Duke of Queensberry.
Hon. Charles Boyle (bef. 1669–1704), later 4th Viscount Dungarvan, and later still 3rd Earl of Cork and 2nd Earl of Burlington.
Hon. Henry Boyle (1669–1725), later 1st Baron Carleton.
Hon. Arabella Boyle (c Oct.. 1671–1750), married Henry Petty, 1st Earl of Shelburne. (named after grandfather's first secret wife Arabella?)

Their son Charles: https://bit.ly/2Wu4qCw

On 26 January 1688, at Ely House, Charles Boyle married Juliana Noel (1672–1750), the only daughter and heiress of Hon. Henry Noel (himself the second son of Baptist Noel, 3rd Viscount Campden by his third wife, Hester Wotton). They had five surviving children:

Lady Elizabeth Boyle (1690–1755), married Sir Henry Bedingfeld, 3rd Baronet.
Richard Boyle, 3rd Earl of Burlington (1694–1753)
Lady Juliana Boyle (c.1697–1739), married Charles Bruce, 3rd Earl of Ailesbury.
Lady Jane Boyle (1699–1780), died unmarried.
Lady Henrietta Boyle (1701–1746), married her distant cousin, Henry Boyle, 1st Earl of Shannon, in 1726.

I believe that the dates used for the sitter in this discussion's portrait are in fact those of Lady Jane Boyle (1699–1780), named after her grandmother.