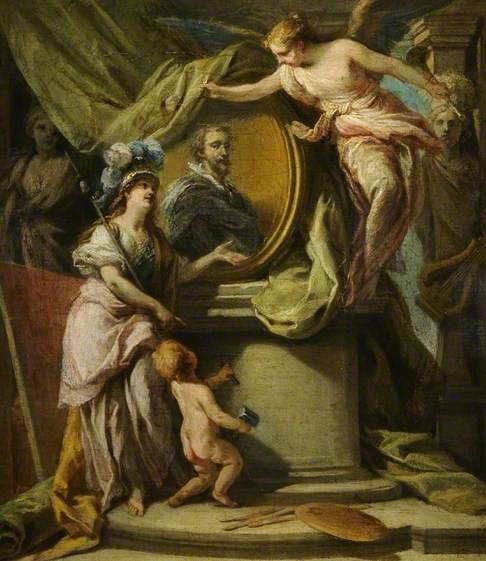 Topic: Painting description
If this is by Louis Chéron (1660–1725), as suggested by the Deputy Keeper of the National Gallery in 1966 in the NICE Paintings entry https://bit.ly/3gvHmyn, it was presumably a late work. This was engraved (with the image reversed) in 1724, which means the painting can be no later than that. The print is here https://bit.ly/36L5pF7. This was made as the model for an engraved frontispiece for a work on Rubens. The print was made by Bernard Baron, a French engraver active in England who is known to have made other prints after Chéron. The latter had settled in England by the early 1690s and was not only a painter but an illustrator or designer for prints to be engraved by others, as well as an "indifferent" engraver himself. It is highly plausible that this picture is by him. A closely analogous engraving (c. 1721) of quite similar design, known to be after Louis Chéron, served as the frontispiece for a series of prints after the Raphael cartoons now at the V&A https://bit.ly/34KcUJI.
It is of note that both engraved frontispieces and their accompanying prints were issued by the same London publisher, Carington Bowles, who may well have commissioned their painted models from the same London-based artist, namely Chéron.

If this were opened to public discussion as to artist, it might come to the attention of François Marandet, an expert of the work of Chéron, who took an interest in a work he believes to be by the latter which is currently under discussion on Art Detective https://bit.ly/2UeDyZS.