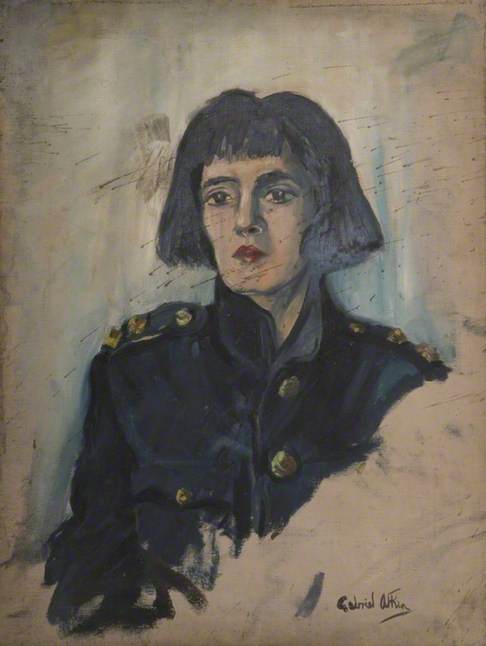 Topic: Subject or sitter
Is this a portrait of an actress in the role of "Trilby", or could it possibly be a portrait of Daphne du Maurier dressed in that role?
I have attached one image of Trilby from George du Maurier's novel; two images of actresses in the role of Trilby; an image of Daphne du Maurier with a "Trilby" haircut; and a later image of Daphne du Maurier wearing a military jacket.

The collection comments: 'It certainly looks quite like Kate Cutler in that role.

I have altered the title to "Portrait of a woman, possibly showing the character 'Trilby'".

The picture description is as follows:

"Portrait of a woman by Gabriel Atkin, possibly showing the character 'Trilby'. 'Trilby' was the title role in the long-running play 'A Model Trilby', 1895, adapted from the novel by George du Maurier, 1894. 'Trilby' was played by Dorothea Baird (1875–1933) in the original production in 1895, and by Kate Cutler (1864–1955), also in 1895'".

Both actresses wore a man's uniform jacket as part of their costume.'

Although the sitter's hairstyle is similar to Kate Cutler's, her facial features are not. The portrait must date from the 1920s, by which time Cutler was in her 60s. Daphne du Maurier, however, was in her 20s and sporting a similar haircut and a closer resemblance to the woman in the portrait (see image attached to my previous posting).

Someone might be able to find a link between Daphne du Maurier and the artist, Gabriel Atkin, who was known to have been moving in literary circles at the time that the portrait was painted.