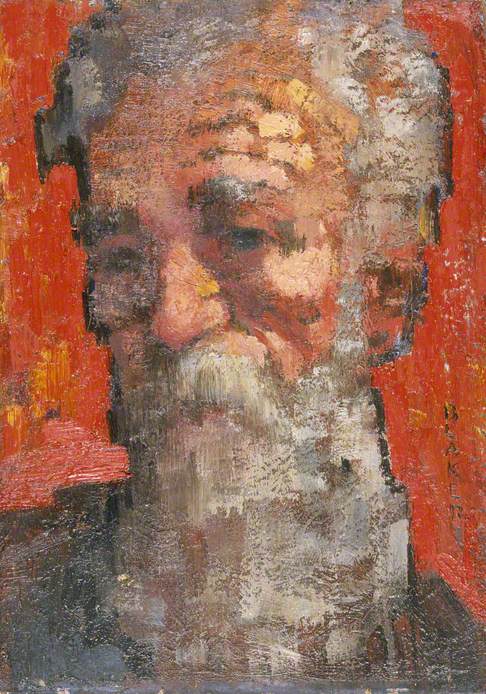 Topic: Subject or sitter
This is Hugh Blaker's portrait of George Bernard Shaw. Blaker never looked anything like this portrait. He was round in the face, bald by middle age, and never sported a beard. There is another portrait of Shaw by Blaker in the Shaw archives at the Harry Ransom Humanities Research Center, University of Texas, Austin.

I have published widely on Blaker and his activities as artist, collector, connoisseur, critic and advisor to Gwendoline and Margaret Davies in the formation of their collection of French nineteenth-century art which they bequeathed to the National Museum of Wales. See: http://jhc.oxfordjournals.org/content/16/2/173.abstract

While George Bernard Shaw and his wife were regular visitors to Gregynog Hall, the home of Gwendoline and Margaret Davies (and indeed they all holidayed together), Blaker, who lived in Old Isleworth, is more likely to have met Shaw in London.

The collection comment:

We do not have a significant amount of information about the work, except that it was logged as a self portrait at the time of acquisition in 1963 and has remained so ever since. But we agree with Robert this appears to be a mistake, and will look to address this. That it may be a portrait of George Bernard Shaw is a definite possibility and warrants further investigation.

We have contacted the Harry Ransom Humanities Center to obtain an image of their portrait for comparison or to see if they have any further information relating to Shaw's relationship with Blaker. They said that a portrait of George Bernard Shaw by Blaker is not in their collection. They do, however, have a handwritten note which refers to such a portrait.

It appears that this note was written by Blaker himself. In it, he notes that he painted a portrait of Shaw from sketches and photographs. It is possible that the portrait referred to is the one in our collection, but we would need further evidence to substantiate this. It would be good to track down these preliminary sketches and photographs, for example.