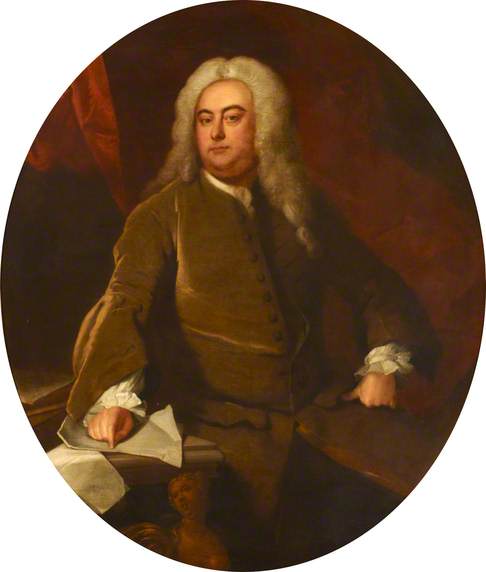 Topic: Subject or sitter
This portrait is listed as Handel in:

J. M. Coopersmith, 'A List of Portraits, Sculptures, etc. of Georg Friedrich Händel' in 'Music & Letters', Vol. 13, No. 2 (April 1932), pp.156–167 as No. 2 under paintings 'Anon. Trinity College London'.

William Smith, 'A Handel Iconography'. Unpublished Ms in the Gerald Coke Handel Collection at the Foundling Museum, as no.111. Smith describes it as 'Not like any other portrait' and gives a reference to Coopersmith.

Philip H. Highfill, Jr., Kalman A. Burnim, and Edward A. Langhans, 'A biographical dictionary of actors, actresses, musicians, dancers, managers & other stage personnel in London, 1660–1800', Vol 7: Habgood to Houbert, Carbondale, 1982. Entry Handel, p.93 as No. 78 'By unknown artist. At Trinity College of Music, London.'

This painting is very similar to a miniature of Handel in the Royal Collection Trust by Georg Andreas Wolffgang, c.1737, watercolour on ivory, 16.8 x 13.2 cm. RCIN 420815.
https://www.rct.uk/collection/search#/3/collection/420815/george-friedrich-handel-1685-1759

Were they made around the same time, in the late 1730s rather than c.1730?

Thomas Hudson painted Handel twice: in 1748 (now in Hamburg) and in 1756 (NPG).