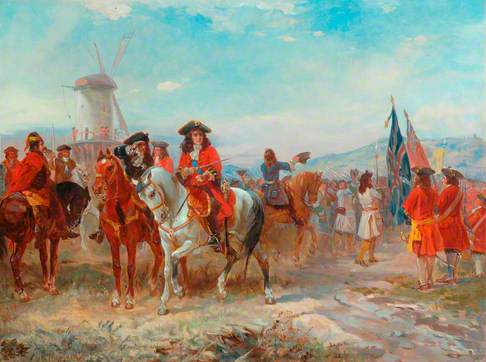 Topic: Painting description
The uniforms are too late for the English Civil War. Most likely this depicts the triumphant meeting of John Churchill, Duke of Marlborough and Prince Eugene of Savoy after the Battle of Blenheim.

The British troops are self evident, but I believe they are being greeted by white-coated Austrian musketeers and there is an Hungarian Hussar in attendance on Prince Eugene. The high ground in the background is probably the hills bordering the Valley of the Danube. Additionally, there was a windmill depicted at Blenheim village and Marlborough was usually depicted on a white mount in paintings of the Battle. I attach another painting of the Battle by Hillingford.
Completed, Outcome

This discussion is now closed. The title has been updated from 'Civil War Battle Scene' to 'Meeting of the Duke of Marlborough and Prince Eugene at Blenheim, 1704'.

Thank you to everyone who contributed to the discussion. To anyone viewing this discussion for the first time, please see below for all the comments that led to this conclusion.