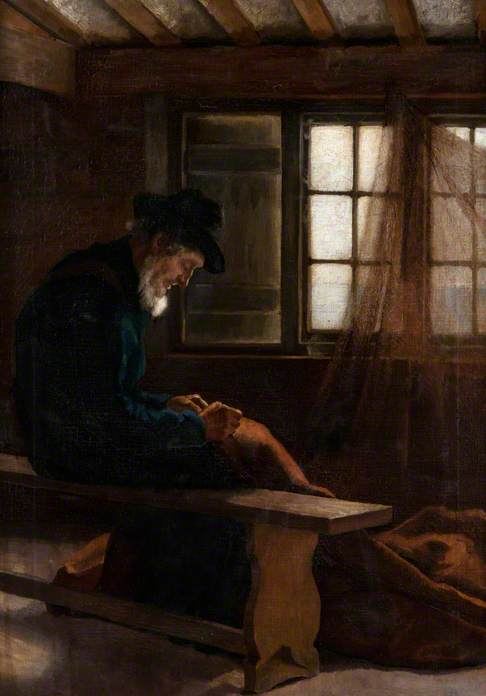 Topic: Artist
Liverpool Autumn Exhibition 1883 no. 557 was 'Mending the Sails' by J. W. Mackenzie, priced at 18 guineas.

The collection notes:

'"Mending the Sails" … is in the Inverness Museum and Art Gallery collection cared for and administered by High Life Highland on behalf of Highland Council. The painting came to the museum in lieu of Capital Transfer Tax from a Miss Alice Mary McClure, who lived in Inverness. Regrettably, though, there appears to be almost no paperwork on the painting itself. There are two very badly faded, hand-written labels on the back. These suggest that the painting was purchased at one time for the sum of £21. There are also two references to the title of the painting "Mending the Sails" and the name "Ross" – which may or may not indicate the name of the artist. There is no visible signature on the front. The other paintings that came as part of the bequest appear to be mostly from the hands of artists from the Dutch/Northern European schools, with a tendency towards genre scenes – though it could be that some of the works are by Scottish artists consciously working in a Northern European manner and looking to Dutch originals. There was undoubtedly a strong market for paintings in this manner in Scotland in the second half of the 19th century/first half of the 20th century.'

There are two works by James Wilson Mackenzie on Art UK, both of which were gifts from the artist's mother: 'On Duty, portrait of "Old Bibby"', 1890, Atkinson Art Gallery Collection, Southport, and 'Sunny Day at Bebington Windmill, Wirral', Williamson Art Gallery and Museum, Oxton, Wirral.
https://bit.ly/2N3eu2G
https://bit.ly/2Q4s3NU

Study of a fisherman attributed to James Wilson Mackenzie.
https://bit.ly/2oIbStr

Art UK records Mackenzie as active 1881–1890; Getty ULAN lists him as active 1888–1890; 'The Dictionary of British Artists 1880–1940' lists him as a portrait and figure painter working in Liverpool, exhibiting 1882–1892 at Glasgow Institute of the Fine Arts (2 works), Walker Art Gallery, Liverpool (33), Manchester City Art Gallery (3), the Royal Academy (3) and the Royal Scottish Academy (3).

Can more be found out about 'Ross' (mentioned on two labels) in the process?