Completed Maritime Subjects 24 comments
Is this by William Bloomfield Douglas (1822–1906)?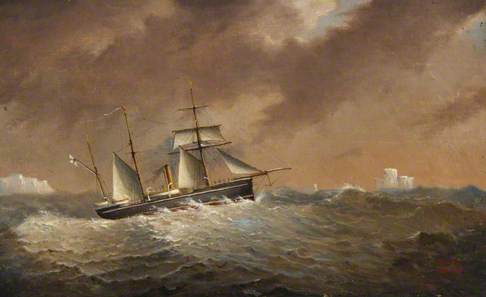 Topic: Artist
Wikipedia has William Bloomfield Douglas in the right place (Canada) and dates for this work. https://bit.ly/3bYsXJn He was an amateur painter. In addition, when he arrived in Canada he lied about his date of birth (took 10 years off) to get a job, so everything fits.
See https://bit.ly/3p8Ek4Z
Completed, Outcome

This discussion is now closed. The artist has been confirmed as William Bloomfield Douglas (1822–1906). Further details of his naval and artistic career are now known, beyond those provided in the 'Australian Dictionary of Biography'. A description of the painting and the acquisition method have been added to Art UK.

Thank you to everyone who contributed to the discussion. To anyone viewing this discussion for the first time, please see below for all the comments that led to this conclusion.