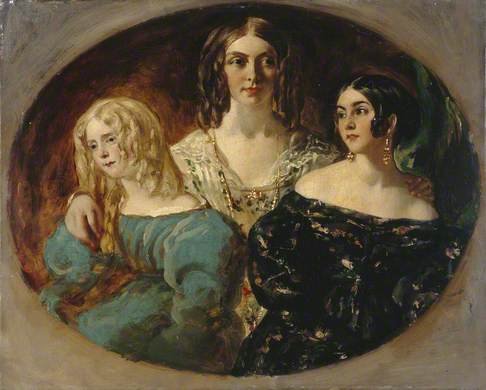 Topic: Subject or sitter
The three Sheridan sisters were known as the "Three Graces". Caroline Sheridan (later Norton) was the middle, not the eldest sister, and all other portraits of her show her as a dark-eyed beauty. The sister on the right most resembles her. Please see the portrait of Caroline painted by the same artist later in life (c.1839), as well as one by Frank Stone (c.1845), attached below.

I suggest the following attribution: L-R Georgiana Sheridan (the youngest), Helen Sheridan (the eldest) and Caroline Sheridan (the middle sister).
Completed, Outcome

This discussion is now closed. This painting has been given the more accurate title 'Portrait of three women (formerly called 'The Honourable Mrs Caroline Norton and Her Sisters')'.

Thank you to everyone who contributed to the discussion. To anyone viewing it for the first time, please see below for all the comments that led to this conclusion.