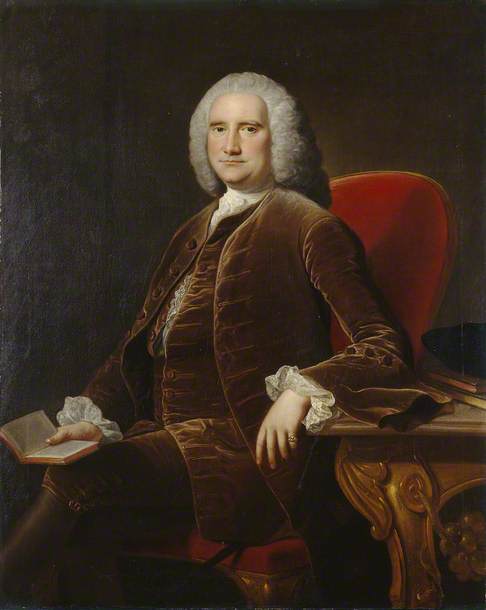 Topic: Subject or sitter
The portrait was accessioned as a portrait of Archdeacon Sharp and it was assumed initially that this was Thomas Sharp (1693–1758), DD. Thomas Sharp would have been 65 in 1757 and the sitter seems younger.

The identification of the sitter was changed to Thomas's son, John Sharp (1723–1792), DD but it is not clear from gallery files when or why. John Sharp would have been in his 30s and would seem a better fit for the age of the man in the portrait. The biographical information we have about John Sharp is as follows:

'BA Trinity College, Cambridge in 174, MA in 1747 and STP in 1759. In 1752 he married Mary (1720–1798), daughter of Dr Heneage Dering, Dean of Ripon, and had one daughter. Sharp became Prebendary of Durham, Archdeacon of Northumberland 1762, Vicar of Harbourne and Senior Trustee of the Estates of the late Nathaniel Lord Crome, Bishop of Durham. He was appointed Curate of the Perpetual Curacy of Bamburgh on the death of his brother, Thomas in 1772.'

Any records that confirm that Hudson painted Thomas or John Sharp have yet to come to light. A researcher who contacted us more recently who is looking into the Sharp family has so far not come across anything in family papers. The identification of the sitter therefore remains unconfirmed. The portrait was presented to the gallery by Thomas Thornhill Shann Esq. in 1901. It is dated 'T. Hudson / Pinxit 1757' on the lower left hand side.