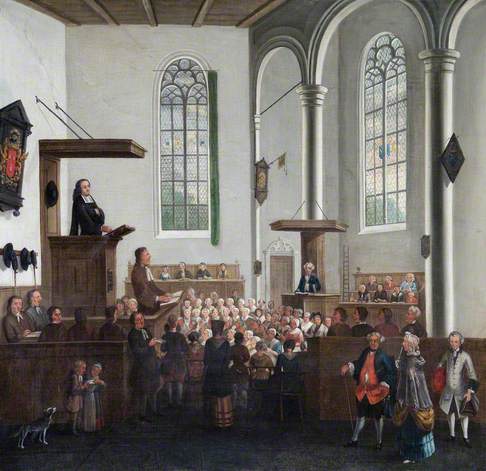 Topic: Painting description
This painting recently came to my attention via the Twitter account of @GeorgianLords, citing the description you have here.

I am an architectural historian specialising in 17th-century church architecture and furnishings and I think this painting shows the interior of a Dutch church and not St Giles Cripplegate. I attach an engraving of the latter from about the time of Wesley's life, which is very different to the painting. See, for example, the gothic arches, box pews and galleries. In the painting, you can see very characteristic Dutch church features such as Herrenbanken (the family/manorial pews set against the walls) and the strange type of individual pew (possibly for a magistrate or city official) set against a column. The windows and tracery are also characteristic of Dutch church architecture. I attach photos of these features from Moerdijk, Breede, Naarden and Amsterdam.

An interesting thought is that Wesley did in fact visit the Netherlands three times (1738, 1783 and 1786). If this is a painting made to record one of those occasions, it would, in fact, be much more interesting than one of the many depicting him preaching in England. Of course, we can't rule out the possibility that the preacher in the painting is not Wesley at all, but there seem enough connections to make it a plausible line of enquiry.
Completed, Outcome

This discussion is now closed. It was established that the painting is not of St Giles Cripplegate and does not show John Wesley preaching. It is a version of an unidentified and probably generic church interior signed by Anthony Vlier (1719–1776) and dated 1769, sold by Bonhams London on 28 April 2010. The picture has been attributed to Anthony Vlier and the title changed to 'Service in a Dutch Church'.

Thank you to everyone who contributed to the discussion. To anyone viewing this discussion for the first time, please see below for all the comments that led to this conclusion.