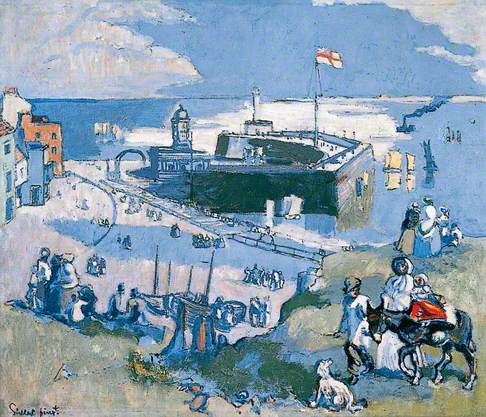 Topic: Painting description
Stylistically this looks like one of Sickert's Echos. He did paint 'Margate in the Time of Turner', a picture either lost or not yet identified. The costumes here indeed suggest that Sickert was not painting a contemporary scene.

This painting was mistakenly titled 'View of Ramsgate' in Wendy Baron's 'Sickert Paintings and Drawings', New Haven and London, 2006, pp.515–516. It is based on J. Roberts' engraving after W. H. Bartlett published by J. T. Hinton with the title 'Margate Pier and Harbour'. The engraving was published in 'The Watering Places of Great Britain and Fashionable Directory illustrated views of all the places of resort in the United Kingdom', James Robins, 1833.

'Margate in the Time of Turner' was no. 16 in the Beaux Arts Gallery's 20th April–14th May 1937 exhibition, 'Notable paintings by Richard Sickert'. This suggests that it may have been painted when the artist was living nearby in St Peter's, Thanet. Sickert lived there from 1934 to 1938: he had a studio in Margate, delivered a series of six lectures at Margate School of Art, and exhibited in local exhibitions at Lovelys, Northdown Road, Cliftonville.

No. 60 in the Beaux Arts Gallery's Summer exhibition of paintings and drawings by eminent modern French and English artists from 18th July to 4th August and from 4th to 29th September was 'Margate', priced at £175. This could well be the same picture.

Kirklees Museums and Galleries does not have any definitive information to add. In its files it has various correspondence relating to the works as an 'Echo'. There is also a letter from 1973 suggesting that the work could be a view of 'Paragon and West Cliff, Ramsgate' exhibited as number 226 in the 1885 annual exhibition of the Society of British Artists.
Completed, Outcome

It has been recommended that this work does appear to be the Sickert 'echo' (c.1931-1932) of 'Margate in the Time of Turner'.

This amend will appear on Art UK in due course.

Thank you to all for participating in this discussion. To those viewing this discussion for the first time, please see below for all comments that led to this conclusion.