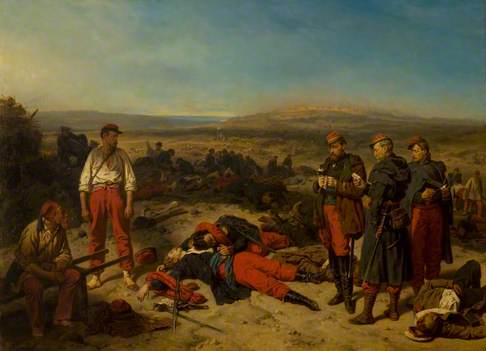 Topic: Subject or sitter
This painting is dated 1861 and attributed to the French painter Hippolyte Bellangé. It was probably purchased in Paris and appears in an 1864 inventory as 'A Scene in the Crimean War'. It was sent to an exhibition of the artist's work at the Ecole Impériale des Beaux-Arts, Paris in 1867. It later appears as 'The comrades on the battlefield, Crimea' in an inventory from 1895.
In the painting a group gather around a dying soldier in what looks like a last rites scene. Could it be that the painting commemorates a specific incident during the Crimean War?
Completed, Outcome

This discussion is now closed. It has been established that this painting depicts a scene from the Siege of Sebastopol, based on an actual incident. Long known only as 'Comrades', the painting's title has been returned to 'The Two Friends, Sebastopol, 1855 (Les deux amis)', as first exhibited at the Salon of 1861.

Thank you to everyone who contributed to the discussion. To anyone viewing this discussion for the first time, please see below for all the comments that led to this conclusion.