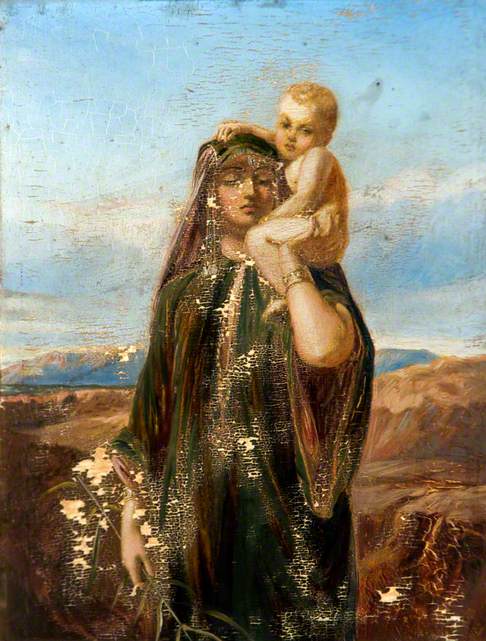 Topic: Artist
In 2008 Sotheby's offered for sale 'Mother and Child', a watercolour painting by Frederick Goodall, signed with his monogram and dated 1865. https://bit.ly/2DALNqc

Artnet illustrates an oil version, 'The Palm Offering' 1863. https://artnt.cm/2xMzpOD

Another comparable painting is 'Bedouin Mother and Child (Afterglow)' 1871, at The Wilson, Cheltenham. https://bit.ly/2C71m6D

There are significant paint losses, including in the area where a monogram and a date might be found. The PCF image is attached.
Completed, Outcome

This discussion is now closed. The title of this painting has been changed to 'The Palm Offering' and the attribution to 'after Frederick Goodall'. It can be dated '1863 or later', which was when Goodall exhibited his painting at the Royal Academy.

Thank you to everyone who participated in this discussion. To those viewing it for the first time, please see below for all the comments that led to this conclusion.