Completed Maritime Subjects 6 comments
Is this painting 'circle of' or 'after' Willem van de Velde II?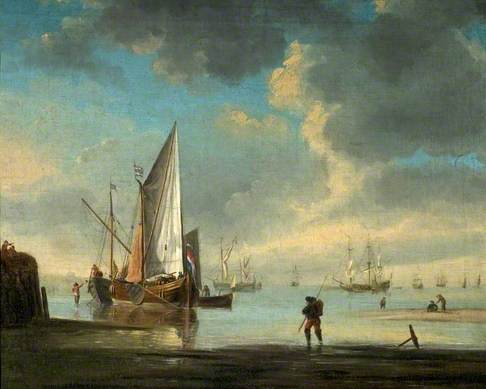 Topic: Artist
This painting may be directly after a Willem van de Velde II, but even if not certainly by a follower of. Compare, for example:

http://bit.ly/2nKek0r

This composition is no.310, on pp.496–497 in volume one of Michael Robinson's catalogue of van de Velde oil paintings. His title of it is 'A smalschip with other vessels in an inlet on the Dutch coast'. He recorded three known versions:

1. At the Alan Jacobs Gallery, London, in 1982 (illustrated p.496), 44.8 x 55.7 cm on canvas, which he judged best of the three and painted substantially by van de Velde II about 1665, with studio help.

2. At Knoedler's, London in 1928, 46.3 x 54.7 cm on canvas, painted to a large extent by the van de Velde studio.

3. A slightly smaller one on panel, 33.5 x 47.5 cm which he judged a late eighteenth-century copy but one suggesting that a fourth version existed from which it might have been copied, by comparison of detail (only made from photos) in the other two.

The points interesting about this one are that it has been where it now is much longer than any of the above, since it is a bequest of 1918. I also doubt that it is the hypothetical fourth version from which the third in the list above was copied, since it appears to differ from all those Michael lists by having the three very distant ships shown at far right, which they don't. His illustrated first example just has the fourth from the right (with the low vessel immediately left of it and then the closer ship broadside on) and none of the small differences he lists in the second and third.

In short, it is a so far unidentified version or copy. Which is hard to tell, but worth further enquiry. The painting of the sky is much looser, both in the density of cloud and with rougher brushwork than his illustrated first example, so it is a distinct variant though otherwise very alike.

The NICE paintings entry says: 'The painting is probably Dutch in origin and eighteenth-century in date, although the identity of the artist is unknown', giving a date range of 1700 to 1770. To that the response has to be that van de Velde II died in 1707, after over 30 years in London, and while the subject and manner is Dutch, it isn't necessarily a native Dutch hand doing the 'version'.

One obviously can't call it even 'studio' of Willem van de Velde at this stage but it is either possibly 'circle of', if early, or 'after', if later. Other views on the line one might take would be useful.
Completed, Outcome

This discussion is now closed. Art UK will be amended with the information that this painting is believed to be after Willem van de Velde II and an alternative title ('A smalschip with other vessels in an inlet on the Dutch coast') added.

Thank you to all for participating in this discussion. To those viewing this discussion for the first time, please see below for all comments that led to this conclusion.