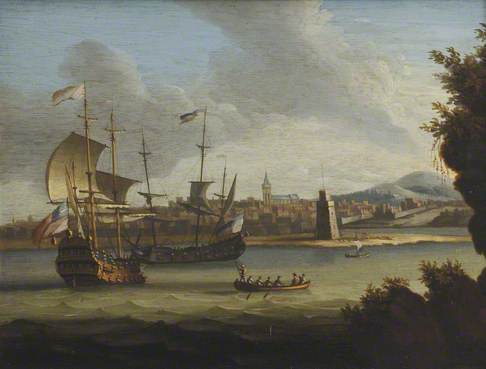 Topic: Subject or sitter
The far ship is Dutch, passing an English two decker flying what would normally be the flag of an Admiral of the Red -who was the Commander-in-Chief of the fleet- and whose flagship was normally a three-decker, first-rate ship. I am not convinced its Plymouth: there are enough images showing the church was with a square tower, not one with a pyramidal roof, nor does the freestanding tower ring a bell.
Completed, Outcome

This discussion is now closed. The title of the work has been amended to 'An English and a Dutch man of war off Messina', with details of the source print stored in the Art UK Notes field.
Thank you to everyone who contributed to the discussion. To anyone viewing this discussion for the first time, please see below for all the comments that led to this conclusion.