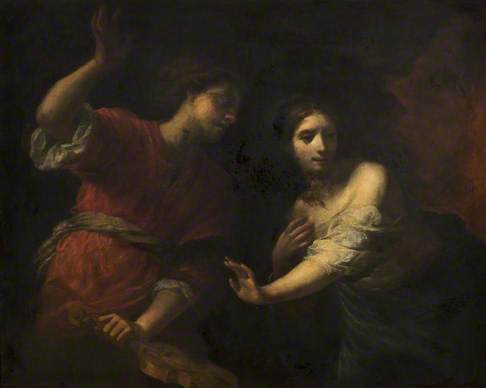 Topic: Artist
Could this by Francesco Furini (1603–1646)? Compare this with his 'Sigismondo with the Heart of Guiscardo' in the Birmingham Museums Trust collection: https://artuk.org/discover/artworks/sigismunda-with-the-heart-of-guiscardo-33217/

Cleaning this picture should clarify its subject as well as to which Florentine seventeenth-century artist painted it, and as to whether it is an original, a studio version or a copy.

The collection comments: This painting came into the museum collection in 1868 and it is thought that the title 'The Duet (Scene from an Opera)' is one given to it in the nineteenth century. The original title is more likely to have been a scriptural one.

The painting is unsigned and is recorded in the documentation as anonymous, Italian, seventeenth-century. Sewter thought it might be by Guercino but it has been restored so much that attribution is difficult.
Completed, Outcome

This discussion is now closed. This painting has been attributed to Simone Pignoni (1611–1698), who was a pupil of Francesco Furini. The subject has been identified as 'Orpheus and Eurydice'.

Thank you to everyone who contributed to the discussion. To anyone viewing it for the first time, please see below for all the comments that led to this conclusion.