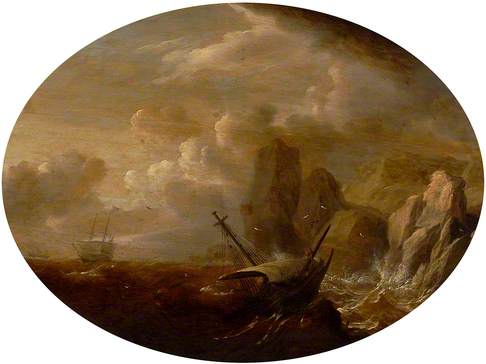 Topic: Artist
With no further information available online about this work in particular, and as there also seems to be no record of the artist B. de Vlieger, could this actually be by Simon de Vlieger (1601–1653), some of whose work it resembles?
Completed, Outcome

This discussion is now closed. This seascape has been attributed to Jan Porcellis (c.1564–1632) with probable studio assistance from Simon de Vlieger (1601–1653). The title has been updated to 'A Shipwreck on a Rocky Coast' and the date has been amended from 18th to early 17th century.

Thank you to everyone who contributed to the discussion. Special thanks to Gillis Tak Labrijn for this attribution and for explaining the different techniques that indicate the likely studio collaboration. To anyone viewing this discussion for the first time, please see below for all the comments that led to this conclusion.