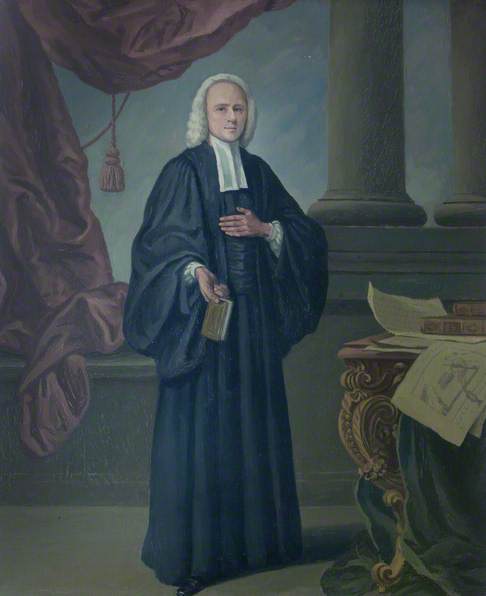 Topic: Subject or sitter
I am not convinced this is painting depicts Owen Charles Whitehouse, MA, DD, Student, Professor and President of Cheshunt College.

It seems that it could be another version of the painting 'George Whitefield (?), Orphan House at Bethesda', which can be seen at http://www.bbc.co.uk/arts/yourpaintings/paintings/george-whitefield-orphan-house-at-bethesda-204337. The paper hanging off of the table in the 'Owen Charles Whitehouse' portrait is a plan of Whitefield's Bethesda Orphan House in Savannah, GA. Compare this with the frontispiece of James Paterson Gledstone's biography, 'George Whitefield, MA, Field Preacher' (visible here: http://quintapress.macmate.me/George_Whitefield/Whitefield_2.html#26). Unless Mr Whitehouse was deliberately attempting to make himself look like Whitefield at 29, it seems unlikely the sitter is Owen Charles Whitehouse.
Completed, Outcome

This work has now been attributed to 'after Francis Kyte (active 1710-c.1750)', the execution date has been added as 'after 1743', and the title to 'George Whitefield (1714-1770)'. The following painting description has also been added, 'Originally believed to be Owen Charles Whitehouse (1849-1916), this portrait has now been identified as being of George Whitefield (1714-1770).' This change will appear on the Your Paintings website by the end of June 2014. Thank you to all for participating in this discussion. To those viewing this discussion for the first time, please see below for all comments that led to this conclusion.