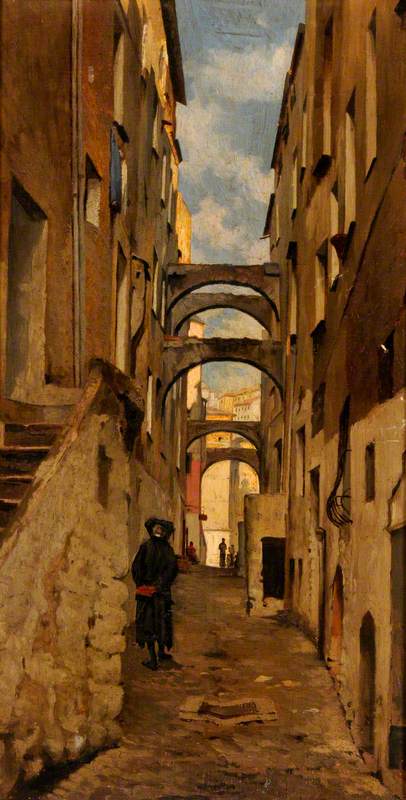 Topic: Subject or sitter
I strongly suspect this is an image of the Jewish Ghetto in Rome, which was demolished in 1888. It dated back to 1555, so it lasted over 300 years.

Compare to this 1874 engraving by Samuel Valentine Hunt after a painting of the Roman Ghetto by Louis Haghe. https://bit.ly/3mYKlAN

For further comparison, Telemaco Signorini, 'The Ghetto of Florence', 1882. https://bit.ly/3mZkRDu

This looks like a nineteenth-century work. The figure in black could conceivably be a rabbi or a Jewish scholar.
Completed, Outcome

This discussion is now closed. The attribution has been amended from 'unknown artist' to 'Italian (Tuscan) School' and 'Italian' has been added to the existing title. The picture has been dated to around 1885. A brief description has been added to the effect that the scene depicted is probably from a town in Liguria (possibly Camogli) or Tuscany.

Thank you to everyone who contributed to the discussion. To anyone viewing this discussion for the first time, please see below for all the comments that led to this conclusion.