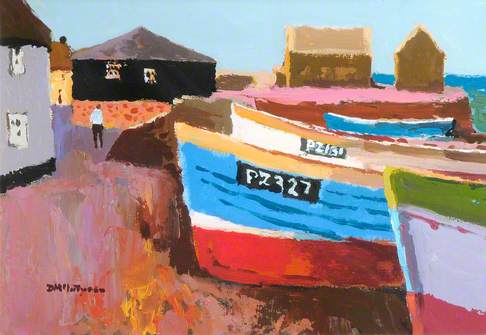 Topic: Subject or sitter
This is certainly inside a harbour of some sort from the pierhead at back and the boats are general small inshore fishing/work boats, probably used for lobster and/or line-fishing.

It is almost certainly Cornwall, since the two with PZ and a number are small inshore fishing boats registered at Penzance. The boats may be on the harbour foreshore at Penzance, or they may be Penzance registered boats on the harbour foreshore elsewhere.

Can anyone pinpoint the location?
Completed, Outcome

This discussion is now closed. The waterfront has been identified as Sennen Cove, Cornwall. The work has been provisionally dated to the mid-late 20th C and a short description added to the record.

Thank you to everyone who contributed to the discussion. To anyone viewing this discussion for the first time, please see below for all the comments that led to this conclusion.