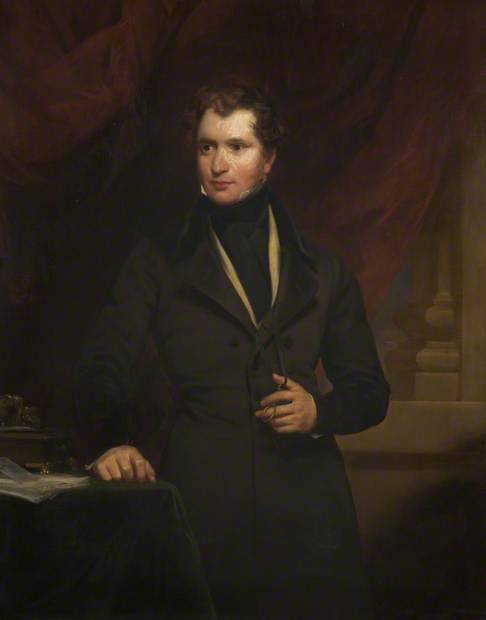 Topic: Artist
This portrait of Edward Smith-Stanley (1799–1869), 14th Earl of Derby, is one of the thousands on the PCF by an "unknown artist". It is in the collection of the Bury Art Museum. Even in reproduction, this work shows considerable skill and flair and must be by an artist of real talent. I have now established that the painting shows the portrait of Derby by Henry Perronet Briggs (1791–1844), an interesting artist, although nowadays not very well known, despite being a Royal Academician.

Briggs exhibited a portrait of this sitter (then Lord Stanley) at the Royal Academy in 1839. That portrait was engraved by W.H. Mote http://images.npg.org.uk/800_800/1/2/mw191812.jpg and in 1842 by H. Cousins; both confirm that the portrait in Bury is the same composition and probably the same painting. The question becomes – is the work in Bury by Briggs himself or is it a copy? Someone with knowledge of the collections of the Earls of Derby at Knowsley Hall might well know if there is another version of this portrait. I will be contacting an expert who may be able to comment on this question.

A newly attributed portrait of the important politician and later prime minister, the 14th Earl of Derby, is something to highlight. According to the ODNB his achievements can be summed up Disraeli's words: "He abolished slavery, he educated Ireland, he reformed parliament". The portrait by Briggs, however, does not feature in the ODNB's list of images of him.
Completed, Outcome

Henry Perronet Briggs (1791–1844) is now listed as the artist of this portrait. The execution date of this work is now listed as '1839 or before'.

These changes will appear on the Your Paintings website by the end of November 2014. Thank you to all for participating in this discussion. To those viewing this discussion for the first time, please see below for all comments that led to this conclusion.