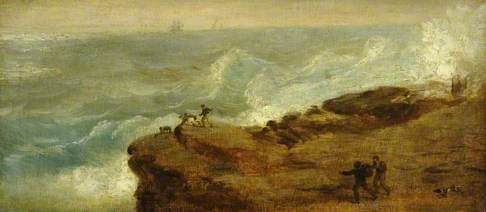 Topic: Artist
What is the basis for just about everything in this description apart from the fact its a rough day of a coast? Why Reynolds and why Plympton (which I think is inland anyway albeit Reynolds birthplace)? Both the dress and general appearance suggests mid-19th-century or later. Does it show men rescuing someone unseen over a cliff? Had Sir Josh done it even as a boy it wouldn't look like this!

I'm sure the Reynolds (and Plympton, his inland birthplace) are distractions to be dismissed, unless there is coincidentally a late 19th-/early 20th-century painter of that name.

Christie's have kindly confirmed that it was indeed sold on 9. 4. 1920 as fully attributed:

'Lot 154
SIR J. REYNOLDS, P.R.A.
A STORM OFF THE COAST
11 ½ in. by 25 in.'

How they arrived there is a mystery: the hammer price to Graves was five and a half guineas, which suggests that even then no-one else (including him) seriously believed it, so he perhaps got it just as a nice thing to puzzle over in due course.

The collection note:

'I'm afraid that we have no further information on this work. It's attribution I believe must have been made historically from the label on the reverse. No further research has been done on this painting, however it was purchased by J. G. Graves from Christie's 9 April 1920, lot 154 (533 DC) as 'A Storm off the Coast'. We are uncertain when 'Plympton' was added.'
Completed, Outcome

This painting is now titled 'Figures on a Sea Cliff in Stormy Weather'. It is listed as British School, c.1825–1850.

These amendments will appear on Art UK in due course.

Thank you to all for participating in this discussion. To those viewing this discussion for the first time, please see below for all comments that led to this conclusion.