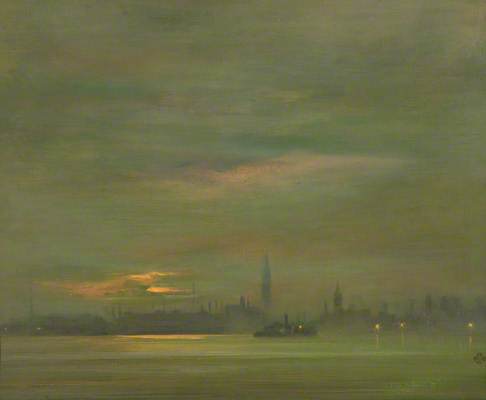 Topic: Artist
We've had this painting in our collection since the 1940s and it has always been referred to as 'The Whistler' - note inverted commas. There doesn't seem to have ever actually been any official research into the piece. All opinion seems to be local or in-house, with some saying yes and some saying no. As you can see, when it was added to ART UK it was listed as being in the 'style of'.

I also came across a particularly interesting story of how reputedly LS Lowry and a friend viewed 'The Whistler' and were of the opinion it was 'definitely' a Whistler. Which makes me think this is 'definitely' worth a bit more investigation. It is similar to his other works of the Thames Estuary and displays a variation of his butterfly signature. Any Whistler experts out there? Can you help? Be wonderful to have your thoughts and opinions, and to conclude one way or another….

It was donated by a local Stockport man, who donated 24 pieces in total to our collection between 1940 and 1946. Our art gallery was a built as a War Memorial after the end of WW1 which may have been what prompted these donations during WW2. His name was Fred Beech - he is named as the donor on the front of the painting, so was clearly okay with being public about it. From what I've discovered, born 1876, died 1958. He was from a working-class Stockport family and became a cotton agent/trader. I couldn't find any marriage or children listed (he was still living with his parents at 35) and stayed local throughout his life, leaving a full will on his death in 1958 - which was a sizeable amount for the time.

Attachments - documentation
- A letter from 1940 about the Beech donation as a whole
- A report from 1962 focussed on the Whistler attribution
- An undated report also on the attribution with examples of the Whistler butterfly signature
- A 1977 drawing of the Butterfly signature
- A 1963 internal memo, reputedly with Lowry visiting the Gallery and commenting on the Whistler
- A list of all the other pieces he donated to the collections, which may provide clues as to the quality of his choices and potentially where he may have been purchasing his art from.
- Extract from the 1978 'Presents from the Past' exhibition, featuring Beech's donation to Stockport

Attachments – signature, frame and back of painting
- Butterfly signature
- Painting in its frame whole front and bottom right-hand corner and title and donor label
- Back of painting whole with canvas stamp and Cat No 28 Label and bottom left corner

[on the colour difference between the main image on Art UK and the supplementary photographs supplied] The image on Art UK is a lot bolder I have to admit. It does seem to have been jazzed up a bit on the contrast. But I would definitely say it's more green than blue. So colour-wise more like the Art UK version but maybe a duller green in reality.
As an aside, on the story of Lowry visiting the Gallery, it was recorded by the witness that they couldn't identify if it really was Lowry. It is recorded that Lowry came in as he wanted to 'clean up his painting which is on the back of the picture'. See https://bit.ly/3zmcPKg. No one else could have known there was a painting on the back other than Lowry. There is a picture on the back but it wasn't discovered until the 1990s when the piece went for conservation.