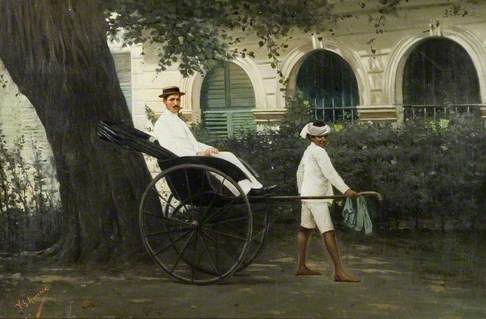 Topic: Subject or sitter
This is probably a scene in Ceylon/Sri Lanka. The rickshaw was introduced to India in 1880 and Sri Lanka a year or so before. The painting is signed in the lower left corner, although I can't see the characters in the surname clearly enough.

Southend Museums Service has been unable to read the signature apart from the initials: 'V.G.M.'. The collection also welcomes comments about the location in the painting.

A high resolution version of the image is attached.
Completed, Outcome

This painting is now listed as being painted by V. G. Maresca, painted c.1880–c.1913. The scene depicted is possibly Colombo, Sri Lanka.

These amends will appear on the Art UK website in due course.

If anyone has any new information about this painting or artist, please propose a new discussion by following the Art Detective link on the artwork page on Art UK.