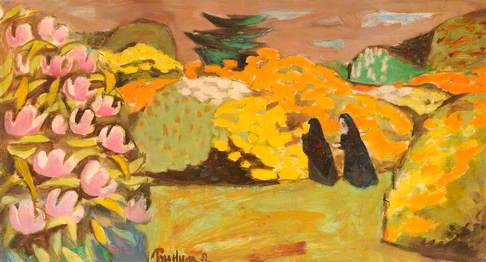 Topic: Provenance
We would like to find out more about this work and if possible how it arrived in our collection on Anglesey.

The Julian Trevelyan painting is part of the old Anglesey collection which was started by the art committee of the Anglesey Rural Council back in the early 60s. Kyffin Williams, Charles Tunnicliffe and other artists were involved and the works were shown at various public buildings on Anglesey (Oriel Môn didn't open until 1991). That particular collection was officially accessioned with us in 1998, hence '98' in the acquisition number, although it was here from the start.

I have just discovered that Kyffin had purchased another painting from this collection, 'Men Carrying Corn' by Sheila Fell, in 1964. https://bit.ly/3DG7K1i . It was the author of her forthcoming catalogue raisonne who discovered the information in the records of the Beaux Gallery in London.

Sadly there's nothing on the back of our Trevelyan painting, and it looks like it's been reframed at some point.

Kyffin Williams was based in London for over thirty years, and we have a sneaky suspicion that he was involved with the acquisition of works for Anglesey.