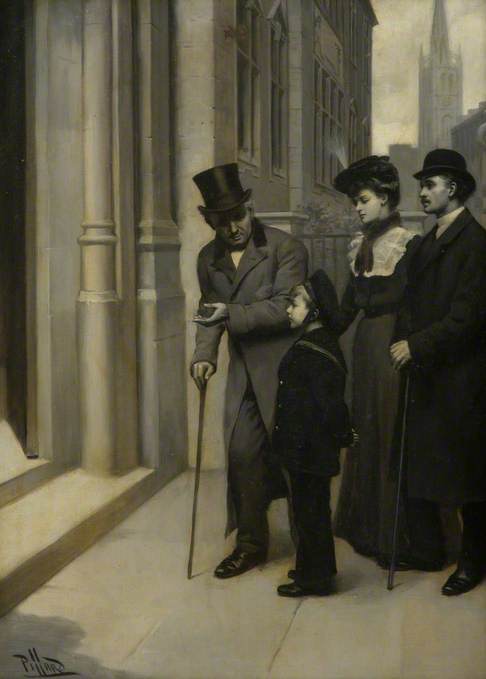 Topic: Artist
Does a catalogue exist of this artist's work?
Alistair Brown added: 'They seem to be an illustrator with an extensive range of works online - the other piece attached to their record on Art UK is only one of a series of original drawings of scenes from the Boer War at the Wellcome Collection.

The same signature appears on a painting of the signing of the Armistice - prints are sometimes listed as A Pillard while others are mistakenly given to the Art Nouveau artist Maurice Pillard Verneuil as here (https://bit.ly/33qhMn8).

It also appears on cartoons and postcards of motoring scenes (https://bit.ly/3vNP2RE) and bears playing cricket (https://bit.ly/2RBEFkP).'
Completed, Outcome

This discussion is now closed. 'Pillard' was a record based on a misread signature. The artist has been identified as Harold Hume Piffard (1867–1939), and the subject as William Douglas Johnston and members of his family on the steps of the Montrose Free Library, of which he was a benefactor. The painting was intended to illustrate the benefits of free libraries in general. It has been dated to 1904.

The artist record for 'Boer War: A Wounded Man Addresses a Superior Officer Seated at His Bedside' (Wellcome Collection) has also been amended.

Thank you to everyone who contributed to this discussion. To anyone viewing it for the first time, please see below for all the comments that led to this conclusion.