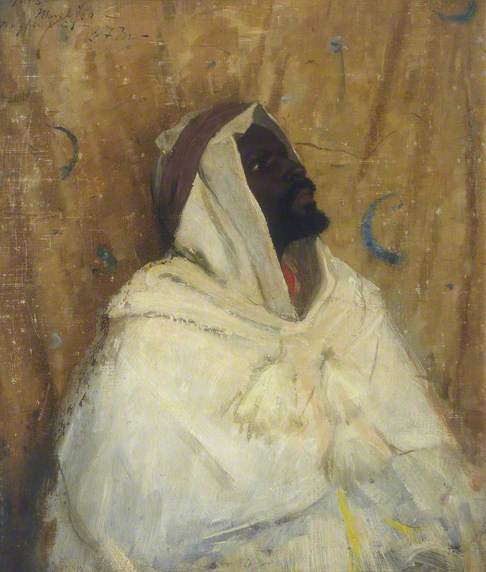 Topic: Artist
This is signed and dated with a dedication 'To my friend' top left.
3 comments

The Collection has added
'We have had a look at the painting 'Head of a Moor' and got more information about the inscription (attached). It looks to us as if it says:

Paris/March 80/To my friend LT/GFM

Therefore, the date is 1880, not 1889, as we previously thought it said.

We think LT is John Leslie Thomson, the artist. We have some of his works that were given to us as part of the Macarthur bequest, as was 'Head of a Moor'. We don't know who GFM was.'

If the picture was given to Thomson, he would not be the one who painted it, and he was a landscape painter anyway, certainly not an Orientalist. He did paint in Brittany and Normandy and was influenced by the Barbizon School, so perhaps this picture is French.

The Macarthur Bequest is named after the painter Lindsay Grandison Macarthur (1865 - 1945). In 1934, Macarthur married Beatrice Butts Thompson (née Howell) (b. 1873), whose first husband had been the above-mentioned John Leslie Thomson (1851 - 1929), whom she had married in 1904. Following Macarthur's death, his widow distributed his collection of paintings between various Scottish galleries.

https://glasgowmuseumsartdonors.co.uk/blog/page/2/

In 1880, John Leslie Thomson would have been 29, and Lindsay Grandison Macarthur would have only been 15.

Could GFM have been an older member of the Macarthur family from whom Lindsay Grandison Macarthur inherited the painting?

As it seems to be written in different coloured paint, it is possible that the inscription of "Paris, March '80" is earlier than that of "To my friend LT - GFM". It is also possible that the FM of the last set of letters refers to "Ferguson Macarthur", a name that runs in the family. Is it certain that the first letter is G?